Book review: Elisa Pérez Buchelli "Art and Politics: Women artists and Action Arts in the Sixties and Seventies" (2019)
In 2019, Elisa Pérez Buchelli published a book that was the result of her MA thesis on Uruguayan women artists entitled Arte y política. Mujeres artistas y artes de acción en los sesenta y setenta (Art and Politics: Women artists and Action Arts in the Sixties and Seventies). Given that the book and its reviews are in Spanish[1] and that it has limited circulation outside of Uruguay (even getting a copy in Buenos Aires has been quite a task), I figured that sharing a review of it in English would be welcome as the author tackles several issues of interest to our seminar.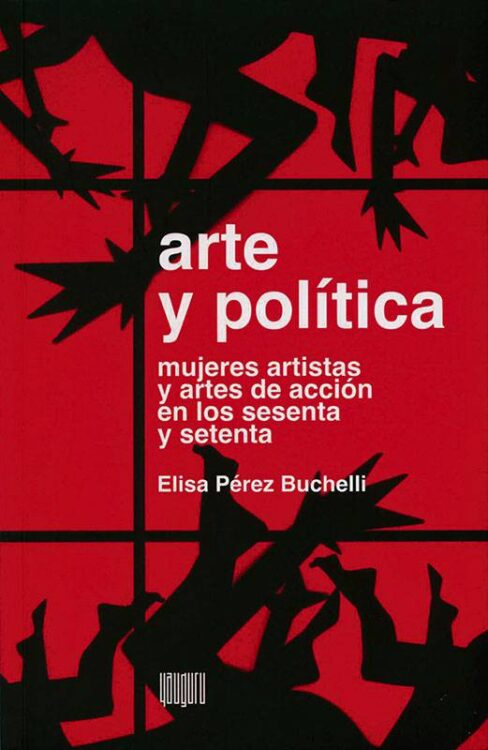 In this 250-page book, Pérez Buchelli sets out to study performances that took place in Montevideo, Uruguay over a ten year period: 1965 to 1975 while contextualizing them in international, regional and local artistic and political debates. Three women are the protagonists of the book, one chapter devoted to each: Teresa Vila, a visual artist; Graciela Figeroa a dancer who led the "Grupo Danza de Montevideo" (Montevideo Dance Group); and Teresa Trujillo who participated in "Teatro de la Banda Oriental" (Theatre of the Oriental Band, this is a synonym of the country of Uruguay). Through a detailed examination of these three case studies, Pérez Buchelli argues that these women not only explored beyond visual arts, dance and theater but also actively incorporated politics into their projects.
The period studied was one of great political turmoil throughout South America and of increased politicization of the cultural sphere. In fact, Uruguay had a military coup d'etat which established a dictatorship in 1973 to 1985 forcing many into exile due to state sanctioned violation of human rights and murders. Rather than a mere backdrop, Pérez Buchelli sophistically accounts for how these political circumstances shaped these three artists' trajectories and, in turn, how the artists imbued political aims into their works. Furthermore, while set in Montevideo, the author constantly shifts into a dynamic, transnational analysis that situates the artists in a globalized art world highlighting their networks and sociability.
The first chapter looks into performance pioneer Teresa Vila's (1931-2009) art practices in the changing political climate of this period. Pérez Buchelli argues that Vila achieved a political reformulation of the happening at a moment of expansion of visual arts as a field. Vila began engaging in drawing, painting and printmaking. By the 1960s she was a recognized Informalist painter and her work was featured in traveling exhibitions of Latin American art that toured the United States and were sent to the Sao Paulo Biennial representing Uruguay. In 1966, she turned to performances, which she called "artistic events" and "themed environments" or "themed actions", while her discourse became more political. She introduced current political topics such as the Vietnam War and the 1968 student movement into her performances.
Pérez Buchelli shows how the Cold War context and Uruguay's cultural modernization projects created a tension in Vila's use of so-called "international art". The author maps a series of debates on art and politics including art critic Marta Traba's call for a Latin American exploration of resistance art. In the 1970s, Vila then returned to making artworks in which she dived into a revision of Uruguay's history, likely perhaps as a result of those debates. The Uruguayan dictatorship had a very conservative view of the arts and carried out policies that contrasted with the artistic scene of the time. Pérez Buchelli describes Vila's later fortune as an insile (exile but within your own country) in which she did not leave the country but a hostile environment effectively ended her career. Vila did not come back to art making even after democracy was reinstalled in Uruguay.
Chapter 2 turns to Graciela Figueroa (b. 1944), a dancer and choreographer who led the Grupo de Danza de Montevideo in Uruguay and Santiago de Chile. Pérez Buchelli argues that in her performances the body is the protagonist of political strategies that are individual as well as collective. Figueroa began her career as a dancer and choreographer in the 1950s, when modern dance was being institutionalized in Uruguay and partook in several important local dance projects. In 1965, as a 21 year old she received a Fulbright scholarship to pursue her studies in New York City, and thanks to funds from the Organization of American States, she was able to stay in that city for five years studying at the Martha Graham and Merce Cunningham's schools and the Juilliard School of Performing Arts. As a result, she worked  with postmodern dancers such as Twyla Tharp and Lucas Hoving and participated in performances in non-traditional venues where art merged with life.
Figueroa's pieces after she returned to Montevideo in 1970, connected social and political reality with art. Figueroa performed in public spaces in the city and incorporated the spectators. One of her works consisted of several diverse fragments, one of which referred to an encounter with the police. During the piece, the audience could hear 'I have my ID!' in direct allusion to how not having an ID was reason enough for the police to take anyone to the station at random. Even in more traditional plays, Figueroa disrupted some elements of it. In a 1971 performance of "La vida es sueño" (Life is a dream), a Spanish classic by Pedro Calderón de la Barca, she played a man's role, suggesting a questioning of the heterosexual matrix.
While Pérez Buchelli does not pursue an analysis of the role of sexuality in Figueroa's life and oeuvre, she points to the diverse social dynamics of Grupo de Danza de Montevideo (GDM). This was a mixed group of dancers and people involved in theater who lived as a community and explored their sexuality who would stand out be read as 'strange' by most people. Pérez Buchelli thus argues that their life and work as a collective should be interpreted as engaging in micropolitics.
Nonetheless, GDM had direct political ties with the South American left. They collectively moved with Figueroa to Santiago de Chile to be part of the Chilean democratically elected socialist project led by Salvador Allende. Dictator Augusto Pinochet's coup d'état on September 11, 1973 disintegrated the group. Dancer Juan Techera, a member of GDM who was fairly active in politics, was detained at the National Stadium where torture and murders took place. He was extricated thanks to the Uruguayan Ambassador after which he went into exile in Stockholm, Sweden.
Chapter 3 examines Teresa Trujillo's (b. 1937) trajectory across the Americas and Europe. For Pérez Buchelli she embodied the 1960s "artist-intellectual" by blending art making and political commitment. Trujillo emerged as a dancer who also spent some time living in New York City in the early 1960s. However, given that she did not secure external funding she worked odd jobs to support herself in the city: nanny, factory worker, waitress. She studied with José Limón's and Martha Graham's company as well as with Lucas Hoving. In 1963, she moved to Paris where she began choreographing pieces and worked with dancers such as the Argentine Graciela Martinez.
Trujillo briefly returned to Montevideo in 1966, where she performed happenings that had tremendous visibility in the media, one was even legally investigated. Trujillo spent May 1968 back in Paris, an experience that pushed her into political commitment. There, she conducted a show at Argentine House, renamed the "Che Guevara Pavilion". Once she went back to Montevideo, along with her filmmaker partner, she found herself in a changed city.
Pérez Buchelli charts this as a moment of simultaneous modernization and professionalization of theater and politicization and radicalization of intellectuals. Trujillo developed plays where the social and political reality surfaced. In Trujillo's 1969's "Rompición" (Breakage) spectators participated directly: both artists and audience were on stage and in conversation. Trujillo was part of a group of self-identified cultural workers called "movimiento de independientes 26 de marzo" (March 26th Independent Movement) and was in close contact with fellow leftist intellectuals and Cineastas del Tercer Mundo (Third World Filmmakers). In 1971, Trujillo became involved in a theater group, Teatro de la Banda Oriental (TBO) which combined art and organized political activism. They toured the country with activist theater and presented plays such as "Hacia la tierra" (Toward the soil) which spoke of Uruguayan peasants, and "A opinión pública" (To the public opinion) on Che Guevara's experience in Bolivia. On that same year, she staged a dance piece on her own "¿Qué hace la danza en este tiempo de mudanza?" (What does dance do in these moving times?), a performance that made use of humor and caricaturization of reality to criticize Uruguay's repressive context.
This cultural and political activism forced her into exile. First she went to Santiago de Chile where she was part of Figueroa's projects, then lived briefly in Buenos Aires, afterwards she lived a few years in Venezuela, and a few more in Madrid. Twelve years of exile meant a myriad of unrealized artistic projects. However, throughout the 1970s Trujillo was involved in ballet projects in Cuba, where culture played a central role.
Pérez Buchelli concludes by stating that there were diverse strategies of politicization in the visual arts, dance and theater in dialogue with global, regional and local cultural debates that women were a part of during the 1960s and 1970s. The book successfully inserts these experiences in broader discussions of the relationships of art and politics and dialogues with literature on similar processes in South America. At the same time, it brings forward extensive archival research on little known figures advancing our knowledge of the role women played in culture. Perhaps it lacks a deeper reflection on how being women influenced the careers and trajectories of these artists – their biographies are only barely mentioned – as well as the place in historiography they have held until the present. In that same vein, the author does not explore these women's contact with feminist thinking and organization, a question dear to our seminar's aims.
By: Ayelen Pagnanelli
[1] http://caiana.caia.org.ar/template/caiana.php?pag=books/book.php&obj=395&vol=17 and https://ladiaria.com.uy/cultura/articulo/2019/5/acciones-recuperadas-arte-y-politica-mujeres-artistas-y-artes-de-accion-en-los-sesenta-y-setenta-latinoamericanos-de-elisa-perez-buchelli/