Carolina Maria de Jesus and Clarice Lispector shows at the IMS-SP, Brazil
On September 25, 2021, the exhibition "Carolina Maria de Jesus. A Brazil for Brazilians" was opened, followed by the exhibition "Constellation Clarice", on October 23, 2021. Both exhibitions occupied several floors of the Instituto Moreira Salles (IMS) building in São Paulo, Brazil.
These two exhibitions included Brazilian female authors from the literary field, who have the IMS as a place to safeguard their intellectual estate: Lispector's was donated by her heirs in 2004, while Carolina Maria de Jesus's estate was donated in 2006. Two seminal female authors in the Brazilian literary milieu were both honored with exhibitions that mix the biographical with contemporary anecdotes of visual artists, which could have led to an institutional review regarding female representation in the institute's collection and programming, but ended up highlighting some already locally known contradictions.
Let's put it in context: the IMS is a cultural institute financed by the Unibanco group, created in 1990 by Walther Moreira Salles, and which had its first unit in the city of Poços de Caldas, in the state of Minas Gerais (where the oligarchic family first settled). It later expanded to a unit in Rio de Janeiro (in the former family residence located in the upscale neighborhood of Urca, with architectural design by Olavo Redig de Campos and landscaping by Burle Marx), and more recently in São Paulo (in a high-tech building located on Avenida Paulista). Operating with a budget allocation from the bank, the IMS promotes visual arts exhibitions, publications, courses, and the acquisition/maintenance of collections related to photography, literature, music, theater, visual arts, and architecture.
Among the myriad of authorial material deposited in the IMS collections, there is a prevalence of male names (as in other Brazilian cultural institutions), and historically, its cultural programming has followed a conservative spectrum of representation; although recently there have been regular efforts to update that profile.
As for the literati: Carolina Maria de Jesus (Sacramento-MG, 1914, São Paulo-SP, 1977) is one of the most celebrated black Brazilian authors today. The granddaughter of slaves and the daughter of a single mother, she spent part of her childhood migrating through cities with her mother, looking for precarious jobs. Versed by various literary genres, she became known worldwide for her diaries that narrate, with a mixture of crudeness and hope, the hard daily life in the favela, in addition to having been a constant figure in the actions of the black movement. Usually portrayed as a single mother of three, paper picker and semi-literate, as she studied only two years in elementary school as a child. The show gains relevance precisely because it does not reduce her to stereotypes of misery, but seeks to encompass the complexity of an attentive black woman to the social problems of their experience and their racial pride. Her critical relationship with the city, together with the social politics at the time, along with her enthusiasm for popular festivals, clothing, and music, are included in this exhibition.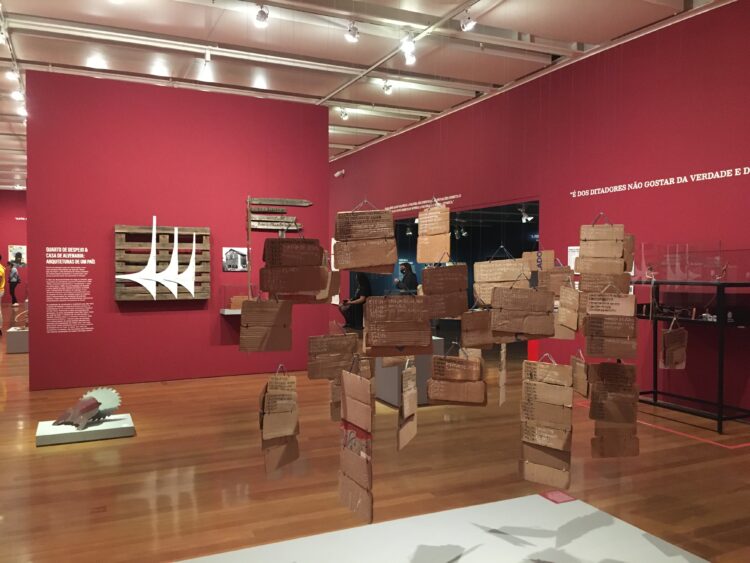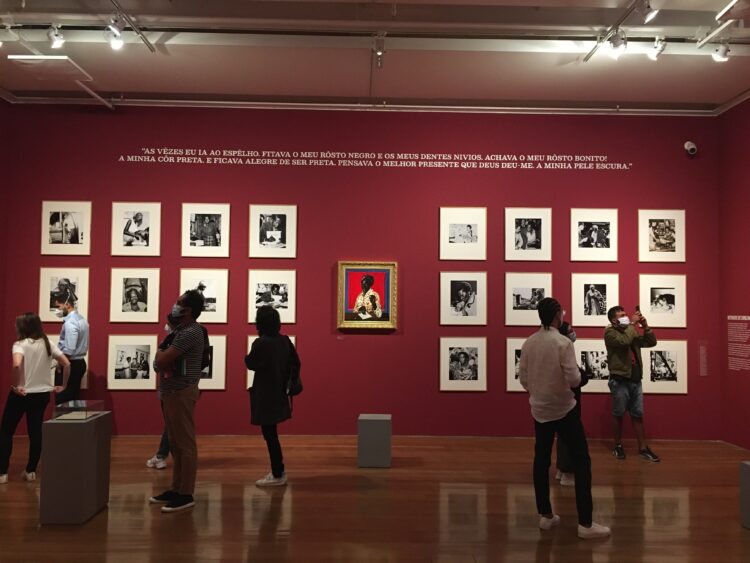 [Views from the exhibition "Carolina Maria de Jesus. A Brazil for Brazilians". Pictures from Talita Trizoli. December 2021]
Clarice Lispector (Chechelnyk-Ukraine, 1920, Rio de Janeiro-1977), a Ukrainian immigrant, is perhaps the most celebrated female author in national literature. From a Jewish refugee family which first settled in the northeast region of the country, more specifically between Alagoas and Pernambuco states, Lispector moved with her family to Rio de Janeiro in 1935. This movement allowed her to verify the various indices of xenophobia and anti-Semitism in Brazilian society. Also working through various literary genres, she worked as a journalist before her literary consecration, in addition to having studied law, and worked as a medical assistant during the 2nd World War, accompanying her consul husband, with whom she had two children and whom she divorced in 1959. Her work is characterized by the use of a continuous flow of thoughts in direct contact with existential anxieties and capturing the banal and fantastic of everyday life. The exhibition present at IMS contemplates such aesthetic indexes, presenting her painting together with other contemporary women artists.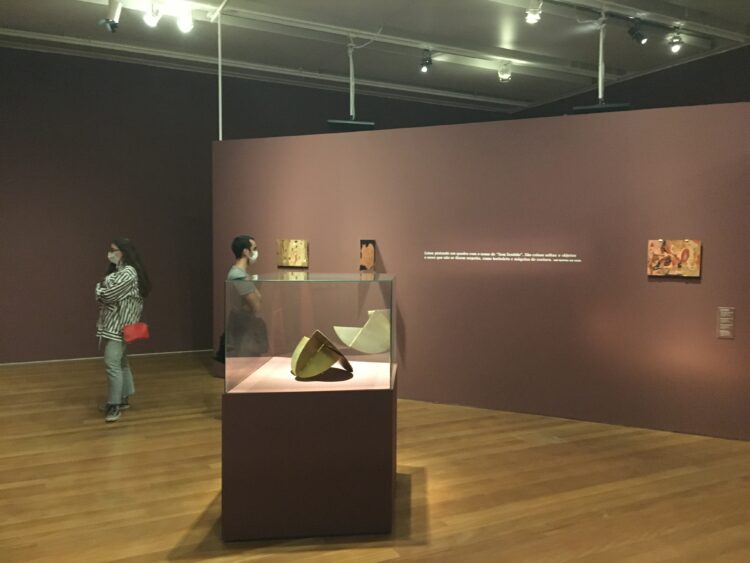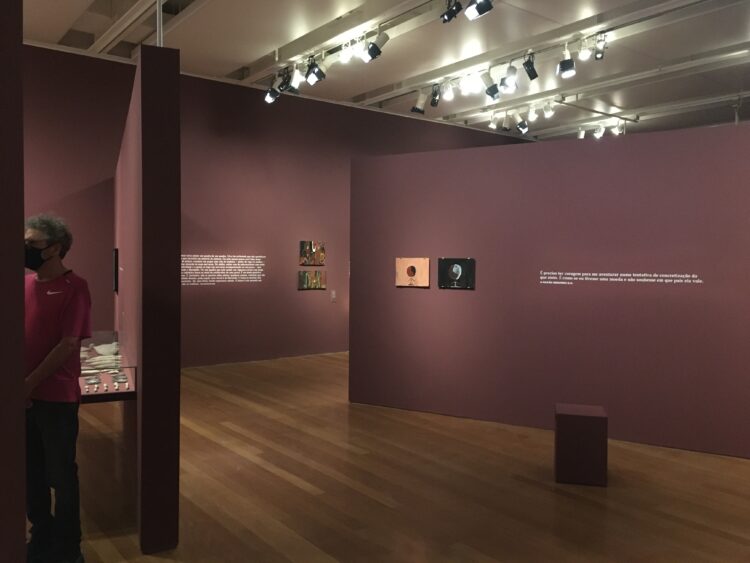 [Views from the exhibition "Constellation Clarice". Pictures from Talita Trizoli. December 2021]
The choice of these two female authors to be contemplated with simultaneous biographical exhibitions appears, at first, an attempt to equate their respective places in the hierarchy of Brazilian culture, but certain discrepancies in curatorial approaches end up accentuating the class abyss between them.
Regarding the exhibitions, Clarice's show is labyrinthine but surgical in the choice of items presented, with large breathing spaces and a certain melancholy air, referring it to the creation environment of the artist's office and her apartment in the Rio de Janeiro neighborhood of Leme. It has been accompanied by the works of 26 female artists produced over the years 1960-70 and curated by Eucanãa Ferraz and Verônica Stigger. The organization of Carolina Maria's exhibition is more chaotic, as, in addition to having relatively smaller rooms available, there is a clutter of documents and works, making it difficult to understand the curatorial scope of Hélio Menezes and Raquel Barreto. While Clarice's exhibition had captions and a logic of fluid circulation of bodies through space, Maria Carolina's exhibition opted for a confusing expographic map, difficult to understand in terms of space, even more so with the option of presenting a numerous volume of items: those whose compelling connections with the work of Carolina Maria are doubtful. Different from the historical perspective for Lispector, the selection of visual works made by the curators highlight a more recent generation of black artists, including some commissions among the 60 guest artists; however, it is worth noting that of these 60 artists with works that address Carolina Maria's work to differing degrees, only 19 are women and four are transsexual, including members of collectives and Carolina Maria herself.
Such problems, somehow, reflect the institution's historical difficulties in dealing with an expansion of the cultural canon of Brazilian society; after all, with these exhibitions' construction, there is an intensification of a racial and class duality that gender cannot overcome. As a paraphrasing of some free conversations between colleagues, it is remarkable that the figure of Clarice Lispector remains as the prototype of the living room/studio of a refined bourgeois writer, while Carolina's Maria de Jesus montage still shows itself through the stereotype of refuse, a room for waste: but both are more complex figures than those indices point out.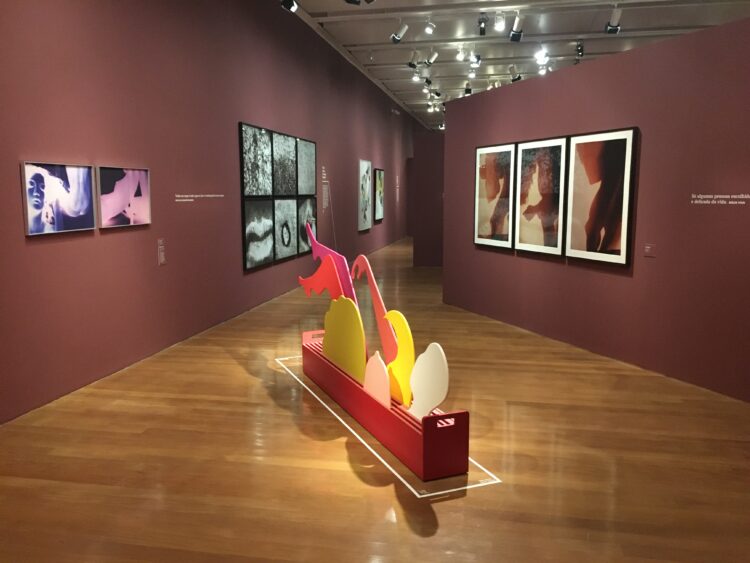 [Views from the exhibition "Constellation Clarice". Pictures from Talita Trizoli. December 2021]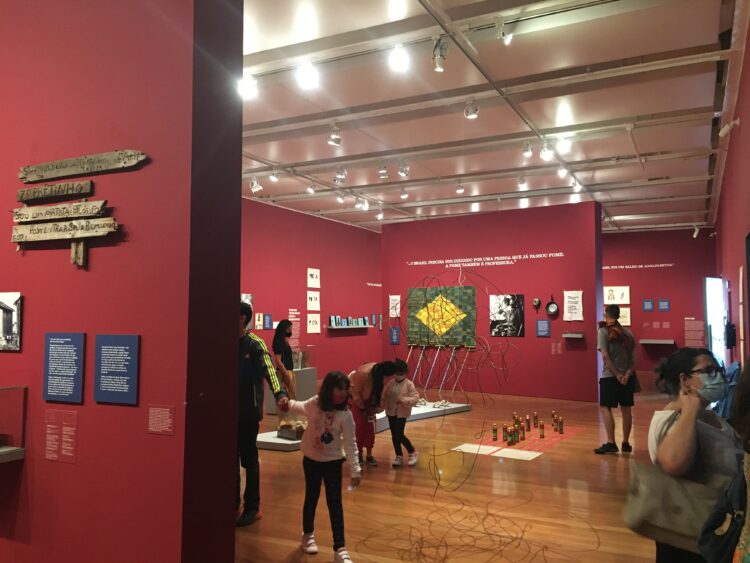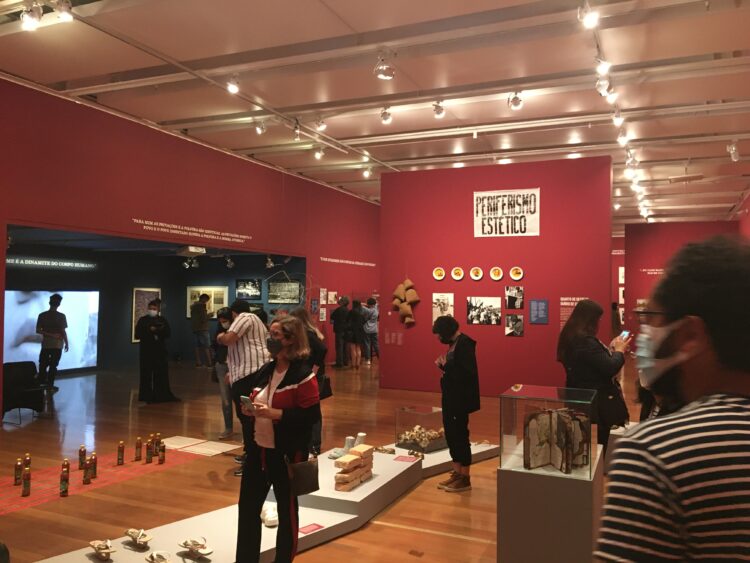 [Views from the exhibition "Carolina Maria de Jesus. A Brazil for Brazilians". Pictures from Talita Trizoli. December 2021]
By: dra Talita Trizoli